« April 2014 | Main | June 2014 »
May 31, 2014
Riding high
A view of the Swing At The Edge Of The World Located In Ecuador
Posted by joke du jour at 11:03 AM | Comments (0) | TrackBack
But who grooms them?
There's a Tarantula Version of the Westminster Dog Show

Just like dogs, tarantulas come in a variety of colors, sizes and demeanors. Just like dogs, they often have devoted (some might say obsessed) owners who prefer to think of themselves as caretakers. And just like dogs have the Westminster Dog Show, tarantulas have a hotly contested annual competition.

This week, the British Tarantula Society (yes it exists, here's how you can join) held its 29th annual exhibition, the biggest tarantula event in the world. How they managed to have 28 of these previously without us noticing, I really don't know. This event sounds amazing — there were something like 30,000 tarantulas there. Just close your eyes and think about that for a minute! I bet you didn't even last 10 seconds with that image in your head.
Posted by joke du jour at 11:02 AM | Comments (0) | TrackBack
Tokyo in reverse
Posted by joke du jour at 11:01 AM | Comments (0) | TrackBack
May 27, 2014
Flashy magic (2)
Another appearance by Darcy Oake on Britain's Got Talent. We saw him last month in this clip.
Posted by joke du jour at 08:03 PM | Comments (0) | TrackBack
Cat fight!
Woman attacks boyfriend with family cat, deputies say

PALM COAST, Fla. —The fur was flying, literally, according to investigators in Flagler County, after a woman allegedly attacked her live-in boyfriend with the family cat.

Katherine Galliher, 50, was arrested Tuesday night after deputies were called to a domestic disturbance at the home on Brownstone Lane in Palm Coast.

The victim said Galliher threw the cat at him and the animal hit him in the face, busting his lip.
Posted by joke du jour at 08:02 PM | Comments (0) | TrackBack
Great graffiti (2)
Posted by joke du jour at 08:01 PM | Comments (0) | TrackBack
May 26, 2014
Black light bodyscapes
John Poppleton does body painting with fluorescent paints.
Posted by joke du jour at 02:03 PM | Comments (0) | TrackBack
News from Flori-duh
Man Attempts to Pay Fine at Courthouse with Counterfeit Bills

The Bay County Sheriff's Office arrested a local man today who attempted to pay a fine at the Bay County Courthouse with counterfeit bills.

When John Sheldon Jernigan gave the clerk at the Courthouse $400 to pay his trespassing fine, she observed that the bills looked unusual. Upon closer inspection, she noticed that many of the bills had the same exact serial number. The bills, all $20's, proved to be counterfeit.

The astute clerk called a deputy to the counter and Jernigan was arrested and charged with thirteen counts of Uttering a Counterfeit Bill.

When investigators spoke with Jernigan, he initially claimed he received pay at his job in cash and it must have been counterfeit. Jernigan later changed his story and claimed he didn't know where he obtained the counterfeit cash.
Posted by joke du jour at 02:02 PM | Comments (0) | TrackBack
Unusual situations
Posted by joke du jour at 02:01 PM | Comments (0) | TrackBack
May 25, 2014
Big red bow
Posted by joke du jour at 12:03 PM | Comments (0) | TrackBack
All in the family
B.C. woman hits moose on way to visit sister who hit moose

Two sisters from the northwestern B.C. community of Kitimat have both had close encounters with moose on the loose.

A month ago, Yvonne Studley, 49, was badly injured when she hit a moose with her vehicle, so last Friday her sister decided to visit her in Vancouver General Hospital.

But sister Connie Everitt, 51, also hit a moose and ended up in hospital.

In the first accident a month ago, Studley was on her way home from a business trip when a moose ran in front of her car.

The animal went through the windshield and landed on her, breaking her wrist, arm and hand, fracturing five of her ribs and causing bleeding in her brain. [...]

When Studley came out of her coma, Everitt and her husband Steve decided to visit her.

She and her husband were in two cars last Friday afternoon. Everitt, in the first car, was going around a corner near 70 Mile House, B.C., when she saw "a brown blur."

"I knew right away it was a moose," she said. "I slammed on the brakes with both my feet." [...]

The coincidence of hitting a moose just like her sister "really threw me for a loop."

"My first thought was, 'Are the moose going out [on a] hunting season for my family?"' Everitt said.
Posted by joke du jour at 12:02 PM | Comments (0) | TrackBack
How much do 5,050 bananas weigh?
Sign in an elevator
Posted by joke du jour at 12:01 PM | Comments (0) | TrackBack
May 17, 2014
Spurious correlations
Tyler Vigen has a great collection of these. If you follow the link, be sure to watch his video at the bottom of the page.
Per capita consumption of cheese (US)
correlates with
Number of people who died by becoming tangled in their bedsheets

H.T. Bill

Posted by joke du jour at 09:03 AM | Comments (0) | TrackBack
Do as I say...
Not as I do.
Peeping pastor pleads guilty to climbing ladder to watch couple have sex

GRAND RAPIDS, MI – A former pastor and Cornerstone University professor has pleaded guilty to climbing a ladder propped against a home so he could watch a couple have sex in their bedroom.

Jeremy Grinnell, 42, pleaded guilty Tuesday, May 13, in Kent County Circuit Court to one count of surveilling unclothed persons stemming from the incident on Nov. 7.

Grinnell propped a ladder up against the home, climbed up to a second-floor window and admitted to watching the Cannon Township couple having sex.

When he returned for another viewing the next evening, he was caught by the male victim and subsequently arrested.
Posted by joke du jour at 09:02 AM | Comments (0) | TrackBack
Talk about a bad day (2)
Posted by joke du jour at 09:01 AM | Comments (0) | TrackBack
May 14, 2014
Omelette
Danilo sends a link to this cute video with the comment, "Hope you like the music as well."
The music is Tom Jobim's Aguas de Marco (Waters of March). Senhor Jobim was a Brazilian (as is Danilo).
Posted by joke du jour at 09:03 PM | Comments (0) | TrackBack
Such a deal!
Students post ad for hit man in order to avoid taking finals

Two University of Georgia (UGA) students were driven desperate enough by their finals that they took to Craigslist to hire a hit man.

According to an advertisement posted on the classifieds website, two female UGA students requested a hit man to run them over with a car. They explicitly said they did not want to die, just simply be "injured enough to get out of taking our finals here at UGA."

The two girls added that the compensation would be "hitting two lovely ladies by vehicle w/ permission."
Posted by joke du jour at 09:02 PM | Comments (0) | TrackBack
Verbosity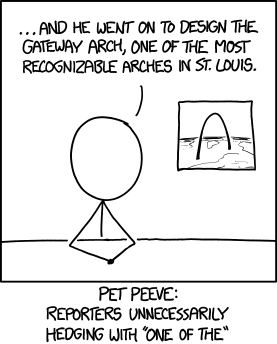 Via XKCD
Posted by joke du jour at 09:01 PM | Comments (0) | TrackBack
May 13, 2014
Aurora dog
Taken in March near Fairbanks, Alaska.

Image Copyright: John Chumack
Posted by joke du jour at 09:03 PM | Comments (0) | TrackBack
Now this is a GMO
First life forms to pass on artificial DNA engineered by US scientists

The first living organism to carry and pass down to future generations an expanded genetic code has been created by American scientists, paving the way for a host of new life forms whose cells carry synthetic DNA that looks nothing like the normal genetic code of natural organisms.

Researchers say the work challenges the dogma that the molecules of life making up DNA are "special". Organisms that carry the beefed-up DNA code could be designed to churn out new forms of drugs that otherwise could not be made, they have claimed.

"This has very important implications for our understanding of life," said Floyd Romesberg, whose team created the organism at the Scripps Research Institute in La Jolla, California. "For so long people have thought that DNA was the way it was because it had to be, that it was somehow the perfect molecule."

From the moment life gained a foothold on Earth the diversity of organisms has been written in a DNA code of four letters. The latest study moves life beyond G, T, C and A – the molecules or bases that pair up in the DNA helix – and introduces two new letters of life: X and Y.
Posted by joke du jour at 09:02 PM | Comments (0) | TrackBack
Sabering champagne
Posted by joke du jour at 09:01 PM | Comments (0) | TrackBack
May 11, 2014
Happy Mother's Day 2014
Geeky and touching all at once.
Posted by joke du jour at 02:01 PM | Comments (0) | TrackBack
May 10, 2014
Can we get a little Streisand Effect here?
This week, someone at a London SEO company called iProspect sent me a request to remove a link to a third party's site.
TL;DR Help stop an SEO bully by linking to http://www.dyno.com/dyno_the_dog.htm from your site, on your Facebook page, or in a tweet.
Do it for the Little Guy (small sites, like this one).
Or do it just for kicks. It could be very entertaining to see how busy we can keep iProspect sending out its "Link Removal Request" messages. Maybe they'll learn the same lesson that Barbra learned.

---
Here's the deal: Five years ago, I linked to a page at a British company's site. I know very little about the company, aside from it's a British plumbing firm called Dyno-Rod®. I assume that iProspect is now providing SEO services to Dyno-Rod and that's why they requested that I remove my link to Dyno-Rod's site.
This is an excerpt from the e-mail I received from iProspect. I'd quote it in full but they'd probably sic a lawyer on me for copyright infringement or something. (This quote will be covered under Fair Use.)
Unfortunately, due to a recent Google algorithim (sic) update, we are reviewing all of the sites which currently link to Dyno.[...]

If you could please confirm the removal of the link(s) asap, as we are waiting to report back to Google on the status of our link profile.
Now how lame is that? A complete stranger asks me to do something s/he has no right to ask, to do it "asap", to do it for free, and bases the request on an incredibly weak excuse like "Google algorithim update." (*eyeroll*)
And "report back to Google"? Snort! Ri-i-ight, mate. I'm sure Sergey's eagerly awaiting that. (And it's 'algorithm', btw. Larry's sure to notice if you misspell it in your report.)
This message was so much Spam to be deleted... until I noticed that the sender also sent it to my domain registrar's Abuse reporting mailbox. If you visit the page with the link, I'm sure you'll agree that the link can't be considered abusive in any sense.
Reporting it to my registrar as abuse was simply arm-twisting by iProspect. In plain language, they're being jerks.
I replied to iProspect yesterday, inviting it to go pound sand.

Hello

I don't understand why you think that I would accede to your request. Does sending an e-mail that says, basically, "Thanks for linking to our site but please don't link to our site" get other site operators to cooperate with your efforts? I find that very difficult to believe.

And I see that you're asking me to remove a link to a page that is evidently no longer active at Dyno.com. I find that even more difficult to believe.

But I must admit that I don't understand, in general, why SEO businesses seem to think they should be able to police links to their clients' web sites. I assume that SEOs try to do that in order to enhance their clients' standing on the web in some way - though I neither know nor care about those details nor about the SEOs' motives.

I hate to be the bearer of bad news, but it's a sad fact of life that site owners do not get to choose who links to their pages. Who will link your pages is always a crap shoot, as we'd say here in the States.

But wait! I have some good news, too.

Being able to freely create links to other sites is the very feature that drives the wonderful World Wide Web on this Internet thing that we all enjoy so much. It's the feature that is apparently driving at least part of iProspect's business, I might add.

Please tell Dyno (and your other clients) that if it doesn't want links to its pages, then it shouldn't publish those pages. Once a page is published on the web, it's public information that can be linked by anyone, anywhere, at any time, in any manner desired.

That's the whole idea of the web in a nutshell. So don't bite the hand that feeds you, etc.

And how I wish I could close by saying,

Have a wonderful day -

Posted by joke du jour at 06:01 PM | Comments (2) | TrackBack
Johnny Express
Posted by joke du jour at 05:03 PM | Comments (0) | TrackBack
<groan> (5)
Paul sends one of the geekiest puns I've seen in a while.
What do you get if you cross a mosquito with a mountain climber?

Nothing. You can't cross a vector with a scalar.
Posted by joke du jour at 05:02 PM | Comments (0) | TrackBack
Beautiful what?
At mental_floss, Meet 10 Beautiful Spiders. This one's an example of a peacock spider species.
Posted by joke du jour at 05:01 PM | Comments (0) | TrackBack
May 08, 2014
They call him Felix, no doubt
1 of 4 images of the happiest cat you will ever see
Posted by joke du jour at 07:03 PM | Comments (0) | TrackBack
I'll bet we all regret missing this auction
Sperm whale carcass eBay auction taken offline after it runs afoul of site's rules — and federal government

Frustrated by a lack of help from the government, a town on Newfoundland's west coast tried to auction off a sperm whale carcass on eBay.

The gigantic dead mammal washed up in Cape St. George a week ago, Mayor Peter Fenwick told Canada.com. In Newfoundland, animal carcasses are the responsibility of the municipality they wash up in, even if they're 12 metres long and weigh 25 or 30 tons like this one does.

Disposing of a dead whale is no easy task and whether its buried, towed out to sea or sliced up to preserve the bones, it requires equipment and funds the town just doesn't have. Although Fenwick said he'd like to preserve the bones, "it's just not within our financial capability."
Posted by joke du jour at 07:02 PM | Comments (0) | TrackBack
Just what the world needs
More selfies... <sigh>
Via Gizmag
Posted by joke du jour at 07:01 PM | Comments (0) | TrackBack
May 07, 2014
More trick shots
Posted by joke du jour at 09:03 PM | Comments (0) | TrackBack
Precedent is everything
Law Students Push to License Dead Chinese Attorney

SAN FRANCISCO ― In a decision still studied in law schools as a 19th century lesson in bigotry, the California Supreme Court in 1890 denied Hong Yeng Chang's application to practice law solely because he was Chinese.

Now, students at a Northern California law school are working to right that ancient wrong. They hope to persuade the current court to reverse its 124-year-old decision.

Students at the University of California, Davis, School of Law's Asian Pacific American Law Students Association and two professors have submitted an application to practice law to the State Bar of California on behalf of Chang. It is a first step before approaching the high court, which licenses California's attorneys.

The state bar vets all California applications and recommends approval or denial to the California Supreme Court. The Supreme Court usually follows the recommendation of the state bar.

"This is a unique situation and we don't know what the Committee of Bar Examiners will do with the application," spokeswoman Laura Ernde said. The committee is scheduled to consider the application in late June.
Posted by joke du jour at 09:02 PM | Comments (0) | TrackBack
More cute animal action (9)
A gallery of Inspiring Animal Pictures.
Posted by joke du jour at 09:01 PM | Comments (0) | TrackBack
May 05, 2014
The giant Easter omelette

People stir a large pan of eggs in the preparation of the annual giant Easter omelet of Bessières in southwestern France. Remy Gabalda/Agence France-Presse/Getty Images
Posted by joke du jour at 07:03 PM | Comments (0) | TrackBack
Maybe that was his license
Georgia drunk driver hands officer beer instead of license: police

Damon Tobias Exum, 37, of Dunwoody, struck a police car and continued driving early Saturday, police said. When asked for his license the man who was 'heavily intoxicated' and unaware of the accident handed him a beer instead.

After Exum struck a police car, he continued down a highway, police said. The officer inside was uninjured and followed him until he finally pulled over, according to the police report.

When Officer Alvin Rodriguez asked the motorist for his license he was handed a beer instead, the officer said.
Posted by joke du jour at 07:02 PM | Comments (0) | TrackBack
Snake 3D
Posted by joke du jour at 07:01 PM | Comments (0) | TrackBack
May 03, 2014
Legal deposition dramatized
Some folks at The New York Times dramatized a legal deposition. (Story here.)
Posted by joke du jour at 11:03 PM | Comments (0) | TrackBack
Science marches on
Science Has Finally Figured Out How to Win Rock-Paper-Scissors

Turns out that all you rock-paper-scissors champions who chalk it up to skill over luck may be on to something. Because according to science, there might actually be a winning strategy to this greatest of metacarpal match-ups.

The bold claim comes from a collective of Chinese researchers who recently took 360 students, broke them into groups of six, and had them play 300 rounds of the game in random pairings. To make sure players never lost incentive (which would be understandable after round 30, much less 300), the winners of each round were given a small sum of money as a reward.

So what do you need to know to win? After observing the many, many rounds, the scientists found that "if a player wins over her opponent in one play, her probability of repeating the same action in the next play is considerably higher than her probabilities of shifting actions."

On the other hand, if a player loses two or more times in a row, he or she will not play the same sign, but will instead play whichever sign would have beaten the one that had just allowed his or her opponent to win. So if Player A has been on a losing streak, and Player B just threw down scissors to beat A's paper, B will likely throw down a rock, which stands a good chance of winning since A is likely to stick with his previously won hand anyway. This is called the "win-stay, lose-shift" strategy.
Posted by joke du jour at 11:02 PM | Comments (0) | TrackBack
Well played (7)
Paul sends this image of the perfect Ron Swanson breakfast ("Give me all the bacon and eggs you have&quot). I don't know where he found it.
Posted by joke du jour at 11:01 PM | Comments (0) | TrackBack
May 02, 2014
One way to handle laundry
A Spacesuit Floats Free Image Credit: ISS Expedition 12 Crew, NASA

Explanation: A spacesuit floated away from the International Space Station eight years ago, but no investigation was conducted. Everyone knew that it was pushed by the space station crew. Dubbed Suitsat-1, the unneeded Russian Orlan spacesuit filled mostly with old clothes was fitted with a faint radio transmitter and released to orbit the Earth. The suit circled the Earth twice before its radio signal became unexpectedly weak. Suitsat-1 continued to orbit every 90 minutes until it burned up in the Earth's atmosphere after a few weeks. Pictured above, the lifeless spacesuit was photographed in 2006 just as it drifted away from space station.
Posted by joke du jour at 10:03 PM | Comments (0) | TrackBack
World Naked Gardening Day
Get ready for the Annual World Naked Gardening Day (WNGD)! People across the globe are encouraged, on the first Saturday of May, to tend their portion of the world's garden unclothed as nature intended.

Gardening has a timeless quality, and anyone can do it: young and old, singles or groups, the fit and infirm, urban and rural. An elderly lady in a Manhattan apartment can plant new annuals in her window box. Families can rake leaves in their back yard. Freehikers can pull invasive weeds along their favorite stretch of trail. More daring groups can make rapid clothes-free sorties into public parks to do community-friendly stealth cleanups.

Why garden naked? First of all, it's fun! Second only to swimming, gardening is at the top of the list of family-friendly activities people are most ready to consider doing nude. Moreover, our culture needs to move toward a healthy sense of both body acceptance and our relation to the natural environment. Gardening naked is not only a simple joy, it reminds us--even if only for those few sunkissed minutes--that we can be honest with who we are as humans and as part of this planet.
Posted by joke du jour at 10:02 PM | Comments (0) | TrackBack
I feel lucky (10)
I wonder how much of this is true?
Posted by joke du jour at 10:01 PM | Comments (0) | TrackBack
May 01, 2014
It's a record (10)
Actually, a meta-record: this guy holds the world record for holding world records.
Posted by joke du jour at 07:03 PM | Comments (0) | TrackBack
Always low prices
Low-cost legal services now being offered in Toronto Walmarts

Behind the plastic jugs of liquid Tide stacked near the entrance of a new Walmart in Markham is an innovation in discount retailing: Axess Law.

Founded by Toronto lawyers Lena Koke and Mark Morris, Axess Law provides fast and affordable legal services to time-pressed shoppers.

Simple wills are $99. Notarized documents are $25, plus $19 for each additional document.

The Axess office in the Walmart on Copper Creek Dr. in Markham is a slim 600 square feet, branded in orange (think ING, Joe Fresh) and is open seven days a week until 8 p.m. It opened in January.

An Axess law office opened at the Walmart in the Scarborough Town Centre last June, and another this month at the Walmart at Eglinton Ave. E. and Warden Ave.

Another is scheduled to open at a Cedarbrae Walmart on Lawence Ave. E. in May.
Posted by joke du jour at 07:02 PM | Comments (0) | TrackBack
Mad Ludwig's Neuschwanstein
Posted by joke du jour at 07:01 PM | Comments (0) | TrackBack